The Best Thing about Sage Intacct Budgeting and Planning? Saying "Goodbye" to Spreadsheet Headaches and Busy Work!

Saying "Goodbye!" to spreadsheet headaches and busy work is indeed a benefit that Sage Intacct Budgeting and Planning provides, but there is so much more to enjoy.
Sage Intacct Budgeting and Planning (SIBP) empowers our customers in four important ways.
Plan - You can focus on strategic plans that exploit business opportunity and sidestep risks.
Report - Easily compare current performance versus plans and drill-down to budget details from your reports quickly and accurately.
Analyze - Easily model calculations – such as projected case, sales, revenue recognition options, or headcount expenses – without spreadsheet errors. No more hidden formulas, broken links, or version control issues.
Forecast - Import actuals with a few clicks directly from Sage Intacct Financials to quickly generate forecasts to influence and inform decisions by the board, senior management, and functional managers.
"We've cut our budget creation time in half, if not more, with Sage Intacct Budgeting and Planning.  It's allowed the finance team to provide more visibility to our executives, board, and managers so we're better able to manage expenses and expectations."  Lea B. Controller
If you are interested in learning more about Sage Intacct Budgeting and Planning we invite you to our Wednesday Wisdom series:
Business Agility, Finance, and Sage Intacct Budgeting and Planning
December 2, 2020 at 1:00e/12:00c
How to Make Your Business More Agile with Sage Intacct Budgeting and Planning
December 9, 2020 at 1:00e/12:00c
How to Build Action-Oriented Plans with Speed, Efficiency and Accuracy
December 16, 2020 at 1:00e/12:00c
Effortless Business Modelling with Sage Intacct Budgeting and Planning
January 6, 2021 at 1:00e/12:00c
To achieve business goals, you need financial budgeting and planning that's effective, collaborative, and strategic.  But most small to midsize companies are trapped with time-consuming, error-prone spreadsheets because the alternatives are just too complicated.
Sage Intacct Budgeting and Planning is an easy-to-use, yet powerful, cloud solution for smaller businesses.  Deploy it in just a few days and say "goodbye" to the spreadsheet headaches.
If you would like to take a quick look at the software, you can take part in one of the daily Coffee Break Demos we offer.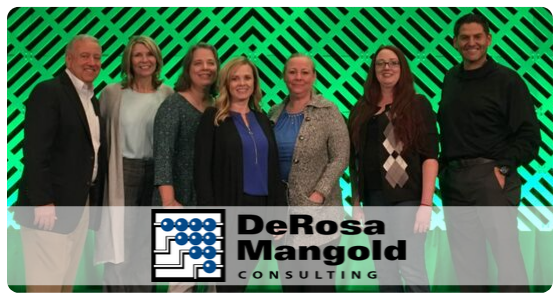 DeRosa Mangold Consulting is a trusted team dedicated to partnering with you in a logical fashion to help you make the best decision for your company's future growth. On average throughout multiple industries, startups to mid-sized organizations begin to see a return on investment in about 6 months. We will personally sit down with you and crunch the numbers, so you know when to expect your own ROI. We won't tell anything but the truth so that you can make the best decision for your organization.
Take a look at what one of our valued customers has to say:
Francesca T.
Accounts Manager
Small-Business

"My client hired Mike and his team to facilitate the movement of their company from QuickBooks and spreadsheets (lots and lots of spreadsheets!!) over to Sage Intacct. This was a big move for us, because we were finally able to put all our apples into the same basket. Mike and his team were always easy to get a hold of despite us being in separate time zones. They answered our questions the same day they were asked or always acknowledged receipt and told me, hey we are working on it. I feel like with a big transition like this, communication is key, and it's important as the client to feel like you are being heard." Read the full review.
Contact us to learn more about our desire for resolving accounting problems and how it motivates us to deliver innovative solutions for everyone we work with!