Are you coming to Sage Summit Atlanta on May 13 – 15?
Calling all Sage 100 customers!
(*If you are a current Sage Intacct customer or interested in learning more about Sage Intacct, we encourage you to attend the Intacct Advantage Conference in Las Vegas in October. To learn more  click here.)

Register now for Sage Summit Atlanta on May 13-15.
Be sure to take advantage of early bird rate of just $199.00 before it expires on March 31.
*List DeRosa Mangold Consulting as your named partner and use promo code: PARTNEREBC when you register. 
Why Attend
Sage Summit is a multi-day event designed for you-the Sage customer. This is a must-attend event that delivers a learning, training and networking experience that will inspire you and provide you with everything you need to know to help your business thrive, whether you're shaking hands with entrepreneurs, getting inspired by thought leaders like Joe Rotella, SH RM-SCP, SPHR (CTO, Delphia Consulting) or learning from Sage experts. Find out how you can use Sage products for smarter sales and discover the power of the Sage Business Cloud.
Overview
Sage Summit:
Atlanta
May 13 -15, 2018
Hyatt Regency Atlanta
265 Peachtree Street NE
Atlanta, GA 30303
Agenda
Sage Summit Atlanta combines inspiration, insights, technology, and networking for a fantastic experience that powers future business growth.
You'll find the agenda overview details below.
Sage Partner day detailed agenda, Sage Summit Atlanta detailed agenda
* Agenda is subject to change

Manage it all with awesome technology
Transform business management with Sage Business Cloud and
its powerful ecosystem of applications, tailored for your business,
in your local market.

Inspiration to spark the next great idea
Get expert advice and inspiration from Sage and local business
experts through engaging keynote presentations and content
sessions.

Make powerful new connections
Meet your peers and converse with our experts to uncover their
keys to success and calculate your next move.
Conference details
Each Sage Summit conference will be multiday events with a welcome reception,keynote, breakout sessions, product demos, and a networking lunch & product showcase reception. Join us at Sage Summit where global cloud technology becomes local through relevant content, connections, and experiences that will provide actionable takeaways for future business success.
Visit Sage Summit website to view the agenda and for the location that works for you!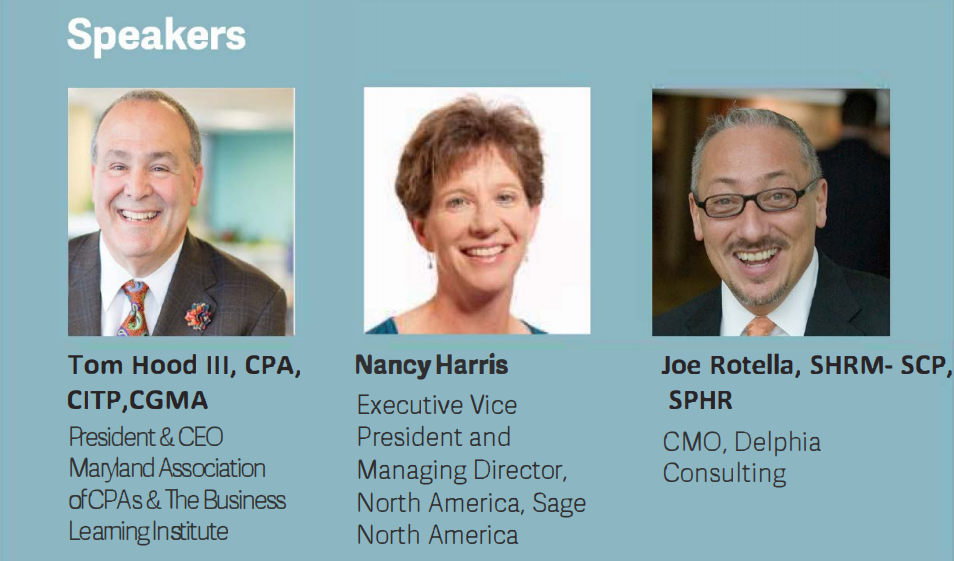 Get the details on speakers, agenda, pricing, and locations.
This is a must-attend event that will inspire you to drive your business forward.
"This was the best Sage event I've attended. Not as big as the Las Vegas or Chicago Summits and larger than the 1-day Sage Sessions. It was a good fit and I felt like I got a lot out of it."
-Sage 100 customer, Sage Summit San Diego
Register today and make it your goal to bring at least three customers to this event.
**If you are a current Sage Intacct customer or are interested in learning more about Sage Intacct, we encourage you to attend Sage Intacct Advantage happening October 21 - 25
in Las Vegas, NV.
Learn more about the conference.
SAGE INTACCT PRODUCT TOUR
Take the Sage Intacct Product Tour Here.
About DeRosa Mangold Consulting, Inc.
Businesses face challenges every day. Markets change, competition shifts, technologies evolve and customers demand more - and more quickly. You're considering new business software to help solve these problems – and tomorrow's problems as well. And you want to be certain you find the right partner to help you select, implement and leverage that software.
What makes DeRosa Mangold the right partner? We believe it's a combination of business acumen, practical real-world experience, and extensive training - wrapped up with natural curiosity and a commitment to doing the right thing. In short, we're a smart, talented bunch that understands that our success is a direct result of your success.
Want to know more about how DeRosa Mangold can assist your company?
Contact us to learn more about our desire for resolving accounting problems and how it motivates us to deliver innovative solutions for everyone we work with!