Take the pain out of project financial management from start to finish!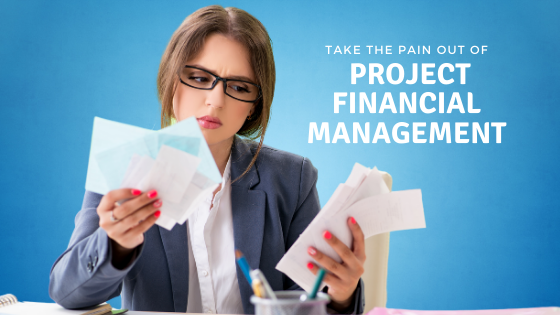 Keeping track of project financials, contracts, and resources can be complex and cumbersome— especially if your workflow is spread out across numerous systems. With Sage Intacct Project Costing and Billing, you can manage all your financial data in one place. Start and finish projects on time, stay on top of project costs, and keep projects productive and profitable.
Whatever your finished project is – a building, a service, a contract, a grant or something else—Sage Intacct will change the way you do business for the better.
Get projects off to a great start
Sage Intacct Project Costing and Billing shows the true costs of past projects, so you can create smarter estimates that protect and improve profit margins. The open API allows integration with operational solutions, so you can see what's in the pipeline, line up schedules and materials, and turn estimates into projects without manually re-entering information.
Improve project workflows
Keep project on track with proper workflows for tracking time and managing costs while providing your team online access to critical job data. Keep a close watch on actuals against estimates and answer questions about project progress or invoices without wasting time searching for the details.
Automate billing and revenue recognition
Billing automation helps you generate project invoices in the right format, using the right terms and the right amounts. Sage Intacct Project Costing and Billing also keeps revenue recognition separate from billing and automates the calculations and postings based on milestones, schedules, or percentage completion.
Make better decisions with actionable insights
Consult a single source for role-specific reports and dashboards. Easily inform stakeholders about the job status, milestones, and invoice information. With timely access to accurate data, you can share insights on project costs or ways to improve profit margins.
Why do Project-based businesses choose Sage Intacct?
Automated billing processes
Capture billable and non-billable transactions to minimize revenue leakage and support automated invoicing of time-and-expense or fixed fee billing. Calculate costs using cost codes and automatically route billable time information to approvers. Then easily generate custom or preconfigured invoices that include time, materials, and other company charges to bill based on milestones, scheduled dates, or percentage completion. After the invoice is out the door, you can always access invoice information with a detailed audit trail of any overrides made to billing rates, quantities, and amounts.
Flexible revenue recognition
Improve forecast accuracy by decoupling billing from revenue recognition. Set revenue recognition schedules by project phase using milestones, schedules, percentage completion, and project completion methods. If things don't go according to plan, you can always pause, resume, modify, or cancel in-progress revenue recognition schedules with complete flexibility and accuracy.
Actionable reports and dashboards
Role-based real-time dashboards and reports deliver fast, visual updates on all aspects of the business with up-to-the-minute financial, managerial, and operational reporting available as soon as time, expenses, and subcontractor/vendor costs are entered. Custom and ad hoc reporting takes your data even further with insights such as operational reports, financial statements, and current backlog details. You can also use historical data to analyze key metrics including past project profitability, job costs, and estimate vs actual data. Then compare this information by project, customer, or other key business drivers.
Integration with external systems
Don't risk vendor lock-in and settle for an all-in-one suite that may not be the best solution for all areas of your organization. Discover the power of choice in customer relationship management solutions like Salesforce, professional services automation, or field operations tools. Sage Intacct's open API lets you integrate with a mix of applications used by the industry today and will adapt to the operational solutions of the future.
To learn more about how Sage Intacct can help you achieve your mission more efficiently, fill out the following information and DeRosa Mangold will be in touch.
If you would like to take a quick look at the software, you can take part in one of the daily Coffee Break Demos we offer.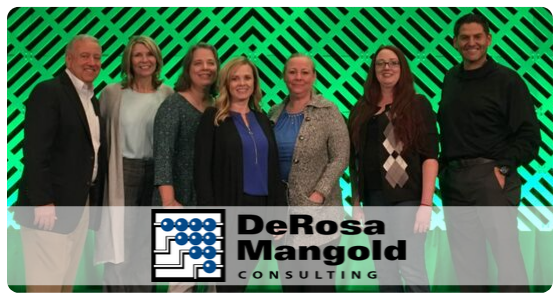 DeRosa Mangold Consulting is a trusted team dedicated to partnering with you in a logical fashion to help you make the best decision for your company's future growth. On average throughout multiple industries, startups to mid-sized organizations begin to see a return on investment in about 6 months. We will personally sit down with you and crunch the numbers, so you know when to expect your own ROI. We won't tell anything but the truth so that you can make the best decision for your organization.
Take a look at what one of our valued customers has to say:
Francesca T.
Accounts Manager
Small-Business

"My client hired Mike and his team to facilitate the movement of their company from QuickBooks and spreadsheets (lots and lots of spreadsheets!!) over to Sage Intacct. This was a big move for us, because we were finally able to put all our apples into the same basket. Mike and his team were always easy to get a hold of despite us being in separate time zones. They answered our questions the same day they were asked or always acknowledged receipt and told me, hey we are working on it. I feel like with a big transition like this, communication is key, and it's important as the client to feel like you are being heard." Read the full review.
Contact us to learn more about our desire for resolving accounting problems and how it motivates us to deliver innovative solutions for everyone we work with!