Sage Intacct Named a Leader by the IDC MarketScape
After a thorough evaluation of Sage Intacct's strategies and capabilities, IDC has positioned the company in the Leaders category in this 2020 IDC MarketScape for the worldwide SaaS and cloud-enabled midmarket finance and accounting applications market. Sage Intacct software is suitable for companies of all sizes with an emphasis on medium-sized businesses.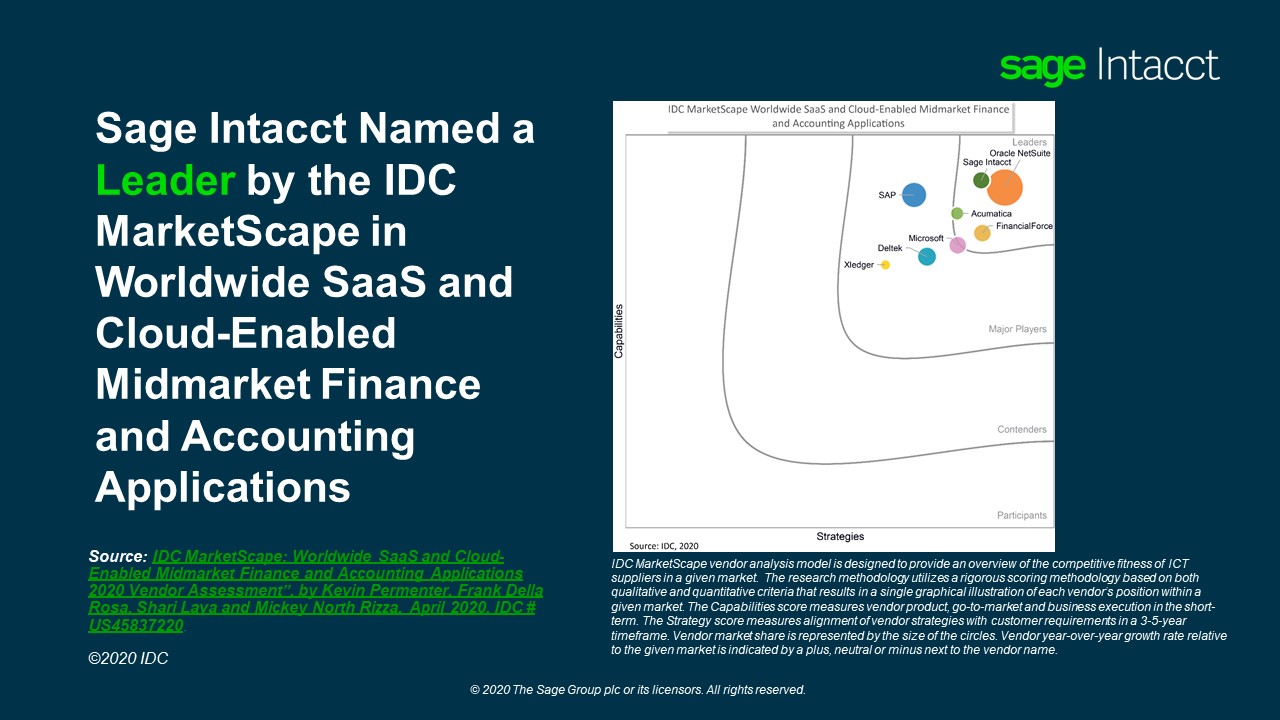 IDC MarketScape, the ICT industry's premier vendor assessment tool, provides in-depth quantitative and qualitative technology market assessments of ICT vendors for a wide range of technology markets. This comprehensive assessment of market competitors provides consumers with the critical information necessary to make important technology decisions.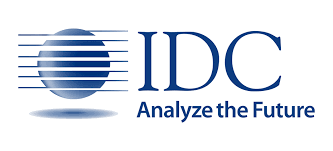 Quick facts about Sage Intacct:
▪ Employees: 750+
▪ Total number of clients: 5,200+
▪ Globalization: Supports customers in 20+ countries
▪ Industry focus: Software, nonprofits, professional services, financial services, healthcare,
hospitality, wholesale distribution, and general business
▪ SaaS: Offered in a multitenant deployment at the application, database, and cloud
infrastructure layers
▪ Pricing model: Subscription based by module and user type
▪ Partner ecosystem: Over 600 partner companies
▪ Built for finance professionals by finance experts: Sage Intacct meets the needs of finance professionals as a core aspect of their software development process, which is exemplified by its long-standing relationship to the American Institute of Certified Public Accountants (AICPA). Sage Intacct also has a dedicated accountant's program, and it has seeded it workforce with CPAs and individuals with deep accounting experience.
▪ Micro-vertical focus: Sage Intacct has taken steps to understand the needs of smaller market segments within larger industries. For example, nonprofits break down further into nongovernmental organizations (NGOs) versus faith-based organizations. This micro-vertical strategy has the potential to drive a deeper connection between the customer and the software.
The IDC suggests considering Sage Intacct when you are likely a fast-growing firm with an appreciation for subindustry expertise in industries like financial services, franchise businesses, healthcare, hospitality, nonprofits, professional services, software, and wholesale distribution.
Take a Coffee Break with Sage Intacct
If you'd like to learn more about Sage Intacct and what it can do for you, register for the
Sage Intacct Coffee Break Demo
below and see what's possible!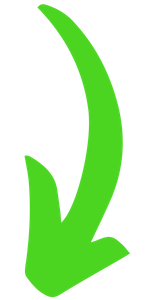 Find out why Sage Intacct is the best choice for your business.
Gina of DeRosa Mangold Consulting explains why you should at least take 45 minutes to watch the Intacct Demo to discover what it can do for your business.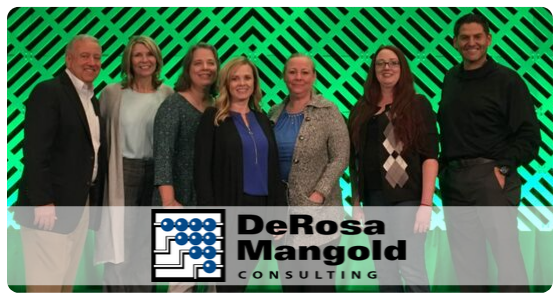 DeRosa Mangold Consulting is a trusted team dedicated to partnering with you in a logical fashion to help you make the best decision for your company's future growth. On average throughout multiple industries, startups to mid-sized organizations begin to see a return on investment in about 6 months. We will personally sit down with you and crunch the numbers, so you know when to expect your own ROI. We won't tell anything but the truth so that you can make the best decision for your organization.
Contact us to learn more about our desire for resolving accounting problems and how it motivates us to deliver innovative solutions for everyone we work with!
Take a look at what one of our valued customers has to say:
Francesca T.
Accounts Manager
Small-Business

"My client hired Mike and his team to facilitate the movement of their company from QuickBooks and spreadsheets (lots and lots of spreadsheets!!) over to Sage Intacct. This was a big move for us, because we were finally able to put all our apples into the same basket. Mike and his team were always easy to get a hold of despite us being in separate time zones. They answered our questions the same day they were asked or always acknowledged receipt and told me, hey we are working on it. I feel like with a big transition like this, communication is key, and it's important as the client to feel like you are being heard." Read the full review.
Sage Intacct continues to be recognized by the leaders in industry standards: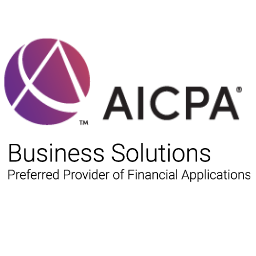 The AICPA and its subsidiary, CPA.com, named Sage Intacct as its first and only preferred provider of accounting applications.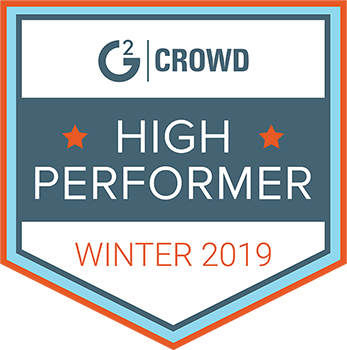 The first and last financial management and accounting solution your business will ever need.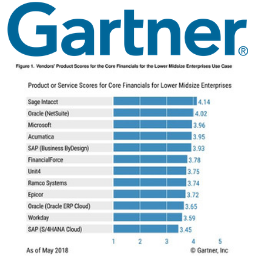 Sage Intacct financial management software receives the highest product score for Lower Midsize Enterprises Use Case ($50 million to $500 million).