Franchise Financial Management – Rising to CFO Challenges
Few care to admit it, but the truth is undeniable: running the financial operations of a multi-entity franchisee will never be easy. Your company is turning to you for financial leadership, but as you add more locations and concepts and your organization grows, so do the challenges.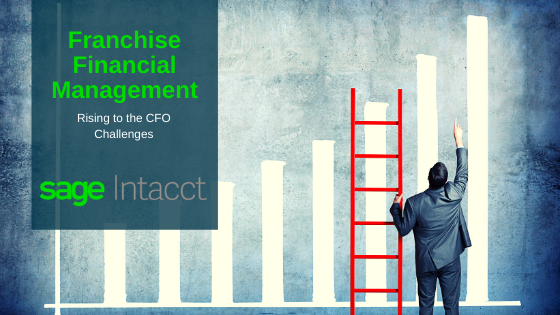 How will you deliver the faster closes, cleaner audits, deeper analyses, regulatory compliance, and multi-unit consolidations that are needed in order to manage and accelerate your growth? When you add it all up, the headaches and sleepless nights are almost inevitable.
The financial infrastructure that worked so well when you started out likely can't scale up as you grow. If outdated or constrained financial software infrastructure has held you back, it's time for a better way. Sage Intacct offers powerful, flexible, best-in-class financial management solutions that are transforming how franchise operations increase their efficiency, drive growth, and plan for the future.
Say goodbye to spreadsheets
Spreadsheet dependency—it's the addiction no finance pro cares to acknowledge. But its prevalence is understandable: after all, the spreadsheet is the easy, multipurpose tool that everyone already knows how to use.
But, while you may have relied on simple spreadsheets to get up and running quickly with your first few units or locations, spreadsheets are vastly underpowered as your business grows. Too many franchisees take needless risks by using fragile, unsecure, single-user spreadsheets for complex tasks like multi-unit consolidations or cash-flow management. The impact is lost productivity, questionable accuracy, and lengthy stares from your auditors.
Bring efficiency to your franchise operations
With Sage Intacct, you can say goodbye to time-consuming, error-prone manual processes that drag down finance productivity. Replace the "million spreadsheet march" with smart, streamlined, automated financial processes, procurement, fixed assets, and intercompany transactions. Sage Intacct has the flexibility to automate your workflows without a spreadsheet in sight.
Improve the speed and accuracy of your reporting
An entry-level financial system can churn out the basic financial statements. But as your franchise operation grows, you'll want - and need - accurate, timely, and detailed analyses that go far deeper for real insight into what's driving business performance.
Unfortunately, at too many franchise operations that translates into a never-ending cycle of daily data extractions from multiple sources in multiple formats with multiple data definitions. What's more, manually creating the calculations and summaries after the data is collected requires additional time and effort. By the time you've got it all together—and burned days of time—the reports are out of date, the questions have changed, and the frustrations have begun anew.
Get in-depth insights, on demand
Sage Intacct gives you comprehensive, real-time financial reporting and analysis so you have an
up-to-the-minute picture of your entire organization. Create any report, dashboard, or visualization you need with the precise metrics that matter to your owners, lenders, executives, and store leaders. Ask new questions, get immediate answers, and make confident decisions.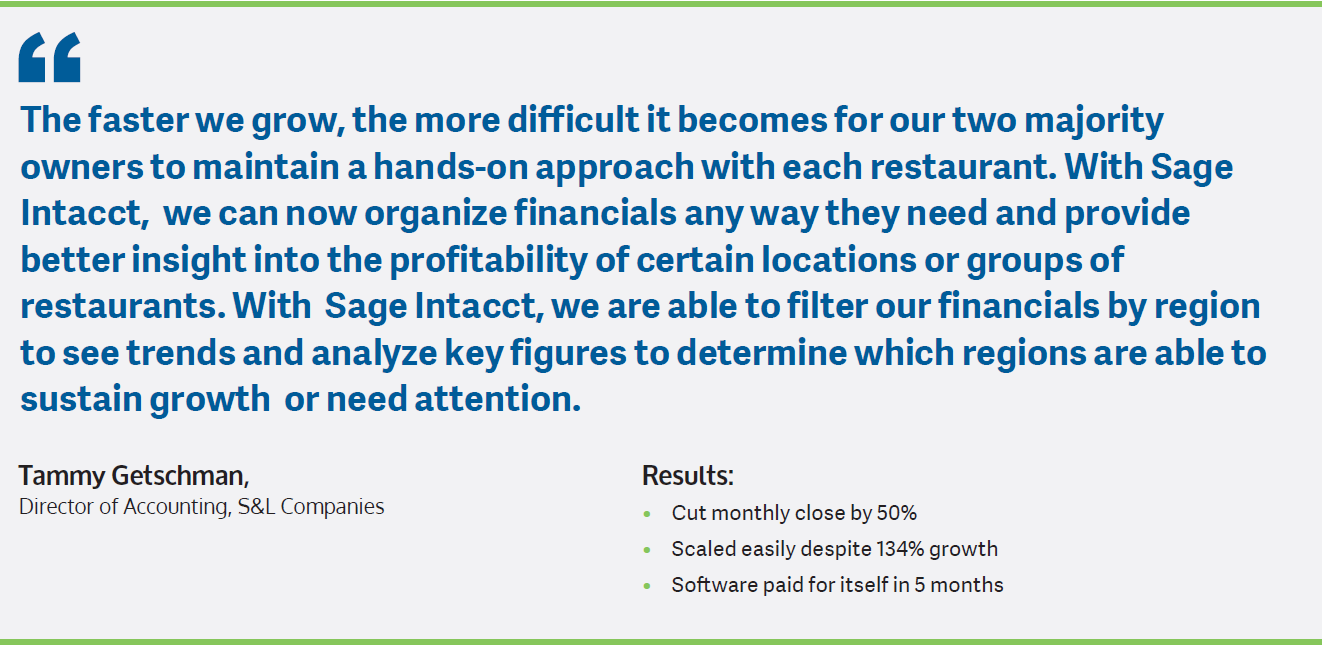 Consolidate with confidence
When a growing franchise operation has multiple units, geographies, and concepts, bringing all
financial information into a unified, cohesive view can be painful and slow. Manually collecting spreadsheets, checking formulas, converting currencies, performing intercompany eliminations—it all adds up to a frustrating, lengthy closing cycle. And as you add locations, the challenge becomes exponentially greater.
Faster consolidations and more efficient closings
Sage Intacct helps you manage the finances of multiple units and concepts with a single chart of accounts. One click let's you consolidate your financials, automate intercompany transactions and eliminations, and close your books quickly. Sage Intacct allows you to switch between consolidated and local views for detailed insights by locations, concepts, sales categories (e.g. meal type), and time.
Compare location performance frequently for insights on comparative performance, to capitalize on business opportunities, and to take corrective actions faster.

Gain new levels of speed and agility
No two franchising operations are alike, so there's no reason for you to endure the constraints of outdated, one-size-fits-all financial software. On-premises software traps you with major upfront investments, and time-consuming implementations. But franchisees thrive when they have the agility to adapt to business fluctuations without waiting months for IT to make changes. You need to keep pace with changing reporting requirements. And you want a system that's tailored to your unique workflows and business processes.
Bring your finance operation to the cloud
It's different in the cloud. With Sage Intacct, you eliminate the hardware costs and IT burdens while
your business enjoys the advantages of modern financial software. That means lower costs, more security, and increased productivity. For instance, you receive automatic, quarterly updates without the disruptions of costly upgrades.
Sage Intacct lets you adapt your implementation—including functionality, reports, and analyses—to stay in step with your changing business requirements. Sidestep the painful capital investments and tap into the power of sophisticated, high-performance financial software managed by experts in a world-class data center. New locations use the same software solution, the same chart of accounts, and the same vendors so it's easy to scale up as you grow.
The result? You get to focus on financial management and business performance while Sage Intacct takes care of the software management and infrastructure—all for a single, predictable monthly fee.

To learn more about how Sage Intacct can help you achieve your mission more efficiently, fill out the following information and DeRosa Mangold will be in touch.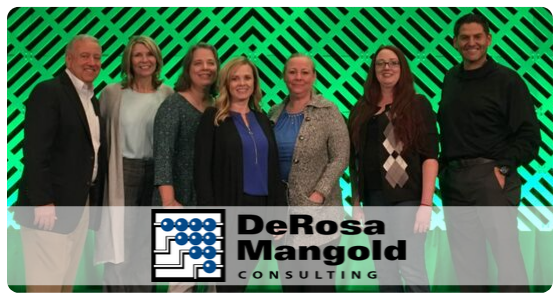 DeRosa Mangold Consulting is a trusted team dedicated to partnering with you in a logical fashion to help you make the best decision for your company's future growth. On average throughout multiple industries, startups to mid-sized organizations begin to see a return on investment in about 6 months. We will personally sit down with you and crunch the numbers, so you know when to expect your own ROI. We won't tell anything but the truth so that you can make the best decision for your organization.
If you would like to take a quick look at the software, you can take part in one of the daily Coffee Break Demos we offer.