Best Practices for Data-Driven Restaurants
Your accounting system should propel you forward, not just look backward
Your restaurant has an abundance of operational and financial data. The right cloud accounting system enables you to harness data quickly and make proactive management decisions.  Manual processes and a lack of visibility into your locations or across the entire business hinder strategic decisions. Those reports that used to take hours? Done, in minutes. Consolidations for your entities that used to take weeks? Automated, in real-time. Minimize the manual work in getting the insights you need, so you can spend more time driving forward-looking strategies.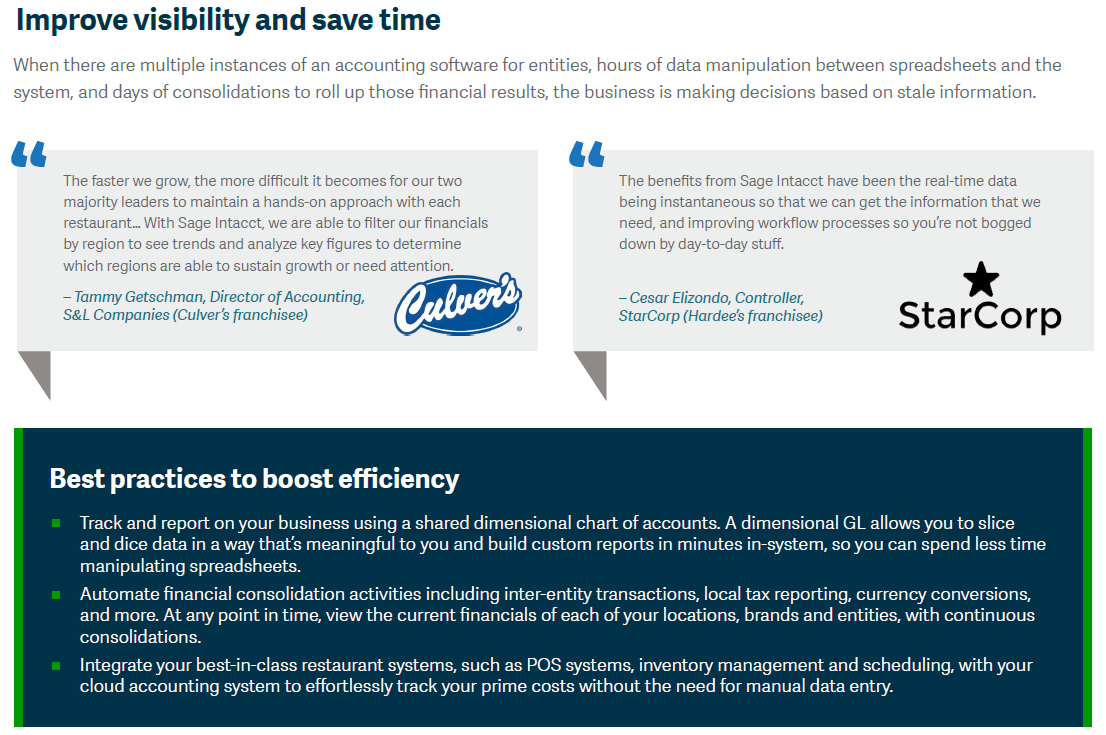 Stay on top of prime costs to maximize profits
In a traditionally slim-margin industry, restaurants must keep a close eye on prime costs. Prime costs are a big expense area, on average making up 61.3% of sales1. You want to keep them from growing too high, but if they are too low, they could indicate poor quality or service. Staying in control of your prime costs starts with consistently and routinely monitoring them.
Get granular insights into your COGS
Would it be helpful to understand how each food and beverage category compares to budget or a prior period to identify problem areas? Give COGS a spot on your dashboard. Next, track your food and beverage items as dimensions and drill down into the details of each.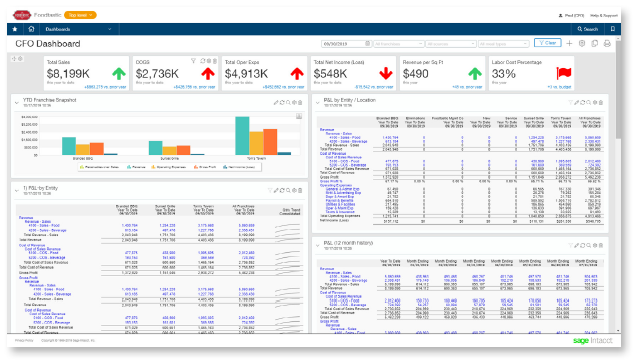 Viewing COGS in this way can indicate problem areas to investigate. Is it time to renegotiate or switch vendors?  Are employees accurately measuring ingredients?  Are menu items priced too low? Taking corrective action starts with precise insights.

View labor costs with full context
Labor costs, including wages, recruitment, taxes, and benefits, are typically presented as a percentage of sales. While labor cost targets and their management will look different in each restaurant, there are ways to leverage a flexible cloud accounting system to control this area of prime costs. Assign staff categories, such as hosts, servers, kitchen staff, and management, to reporting dimensions to easily see what is driving your costs.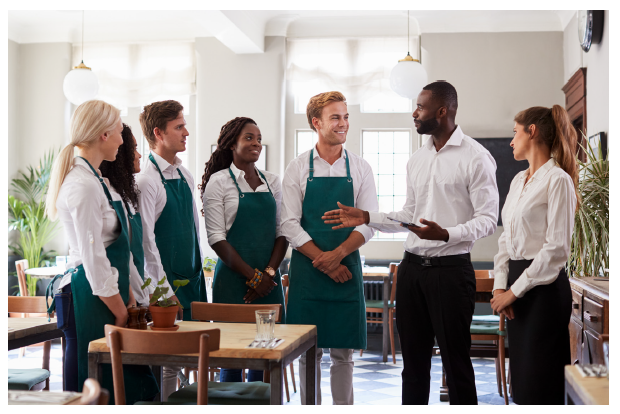 Drilling into those dimensions can generate labor reports that indicate if the restaurant is staffed at proper levels at essential times so you can course-correct if needed.

Improve visibility and save time
When there are multiple instances of an accounting software for entities, hours of data manipulation between spreadsheets and the system, and days of consolidations to roll up those financial results, the business is making decisions based on stale information.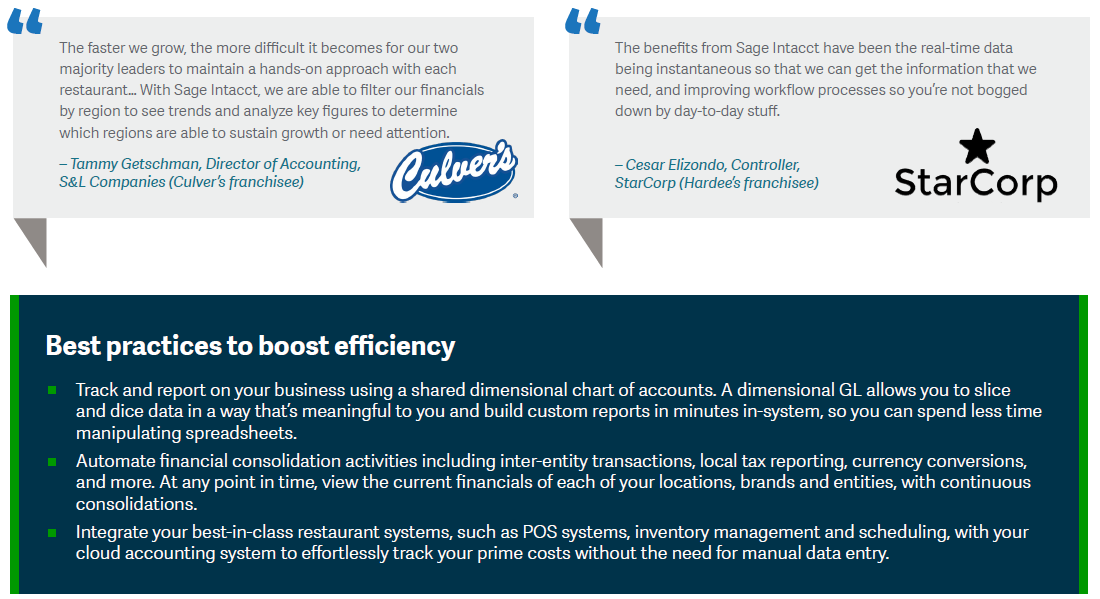 Create detailed custom reports in minutes
Custom reporting that meets the exact requirements of each entity can be available in minutes, thanks to dimensional drilldowns. Reports displaying dimensions enable a deeper understanding of performance drivers at your restaurant. For example, drill down into the sales by location, employee, or menu item within a food & beverage report. If a menu item is not selling well, you can compare its sales to its costs in the prime cost report. With combined insights on the item's sales and costs, you'll be able to make an informed decision on whether you should stop selling the item or decrease the price to sell more. Empower stakeholders throughout the company to create and use the reports they need. Sage Intacct report creator tools are user-friendly enough that anyone from the staff accountant to the CFO can create role-based dashboards and financial reports within minutes for higher frequency and accuracy in reporting.
Evolve into a key strategic partner of the business by bringing:
Flexible & custom reporting that fits your needs. Use custom financial and operational dashboards based on a dimensional GL structure to make data-driven decisions easily.
Accuracy & speed with automation. Automate the ongoing finance tasks like financial consolidations so they take minutes, not weeks.
Real-time visibility across systems. Integrate your restaurant systems so you can effortlessly maintain a current, holistic financial view all in one place.
Sage Intacct enables restaurants to operate on strategic insights through access to real-time information instead of backward-looking data. Dimensional reporting drills into the most granular detail and can also instantly roll up multiple entities for a complete, strategic view of company performance.
To learn more about how Sage Intacct can help you achieve your mission more efficiently, fill out the following information and DeRosa Mangold will be in touch.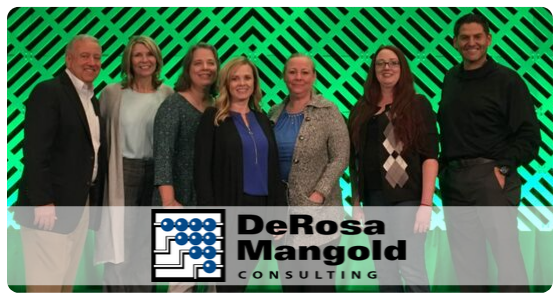 DeRosa Mangold Consulting is a trusted team dedicated to partnering with you in a logical fashion to help you make the best decision for your company's future growth. On average throughout multiple industries, startups to mid-sized organizations begin to see a return on investment in about 6 months. We will personally sit down with you and crunch the numbers, so you know when to expect your own ROI. We won't tell anything but the truth so that you can make the best decision for your organization.
If you would like to take a quick look at the software, you can take part in one of the daily Coffee Break Demos we offer.