4 Signs Manual Processes are Costing Your Team Time and Money
Like most organizations, you probably dedicate too much time to manual processes.
In fact, employees across all functions spend about one-third of their time on repetitive tasks, according to McKinsey, one of the world's leading management consulting firms.
Your finance team likely spends hours every month consumed by manual tasks such as rifling through filing cabinets or electronic folders to locate supporting documentation for transactions or searching through emails for approvals. This could be related to a range of factors, such as an accounting system that isn't integrated or unable to adapt to changing business conditions through configuration. Unsurprisingly, this method of accounting invites errors and leads to even more time spent making corrections.
At the same time, managers have little visibility into their team's workflow. All of this causes the workload to pile up, forcing finance teams to cut into their weekends to get it all done while preventing leaders from making informed decision based on up-to-date financial data. And, if that's not enough, it's costing your business.
But modern, cloud-based financial management technology can change that. By automating repetitive tasks such as purchase ordering workflows, vendor payments and bank reconciliations your finance team can begin to shift its focus toward strategy and helping the company meet its broader goals. Another piece of good news is that automating and centralizing information in your accounting solution can simplify your audits. How can you tell if it's time for a change?
SIGN 1:
You're Buried in Paper and Emails or Waiting for Approvals
The purchasing process often feels like an unbreakable cycle of filling out forms, walking them around your office for approvals, and waiting on time-strapped managers for their approvals. Even if you're now sending the forms over email, it's still far from an efficient process. You spend time digging through your emails for approvals and lack visibility into where purchase orders are in the approval process. Instead, you could use that time to identify more cost-effective vendors, review spending to identify areas of savings, or build stronger supplier relationships.
Without purchasing approval limits in place, managers need to approve a higher volume of purchases, potentially creating approval bottlenecks and taking valuable time away from managing their department.
SOLUTION:
Automated Purchase Order Workflows
Your team doesn't need to spend hours filling out purchase orders, walk or email them around the office, and then wait on their approval. With Sage Intacct, you can automate up to 90 percent of the purchase order process. It starts with paperless workflows.
Sage Intacct brings order to the purchase order workflow by putting all its components in one place. Instead of printing purchase orders and then walking around the office to deliver them to the manager whose approval is needed, you simply move the document to the next step in the approval process workflow within Sage Intacct. The manager only sees payment orders that cross a set cost threshold, and they receive an alert through email and text when their approval is needed.
Paperwork is electronically attached to the purchase order record. With centralized purchase orders, you no longer need to worry about losing copies of purchase orders. And the approval status is always available on the record and in your reporting. The centralized purchase order also ensures the information your auditors need is easily found.
Through automation, you can potentially cut hours down to minutes in the purchase approval process. Your team can dedicate the additional time in their schedules to helping the business reach its larger goals and planning for the future.
SIGN 2:
You're Spending Too Much Time Printing, Signing, Mailing, and Reconciling Checks to Vendors
Once a purchase order is approved, your team's work isn't over. It's now time to pay the vendor. For many finance teams who still pay vendors by check, this usually entails the following:

Not only is this a tedious and error-prone process that can take up to 30 days, but it can also cost your company an average of $12-$30 per bill when you account for labor, postage, and mailing supplies.
SOLUTION:
Automated Payment and Billing Reconciliation
Vendor payments don't need to be a headache. Sage Intacct streamlines the payment process from bill to reconciliation with Vendor Payments powered by CSI, helping your company regain $1,060 or more in productivity2 and reduce transaction costs. Once you submit a payment through Sage Intacct, CSI handles the rest. You can pay vendors quickly and easily, speed up reconciliations, and improve vendor relations.
It starts by removing the need for your team to manually process payments. CSI pays by check, ACH, or virtual card. When a vendor is paid by check, CSI handles the printing, envelope stuffing, and mail charges for you.
Each transaction, along with its payment status, is automatically reflected in your accounts payable record. When coupled with bank feeds or bank imports, the payments are automatically matched to your bank account records to speed reconciliation. And, because it all takes place in Sage Intacct, you get full visibility into your vendor payment workflow along with a streamlined user experience.
SIGN 3:
You're Constantly Investigating Discrepancies Between Statements and General Ledger Balances
Many finance team members spend hours a day going back and forth between internal records and bank statements, meticulously matching transactions and chasing down every discrepancy. Once that's done, they still need to dedicate even more time to investigating every one of the discrepancies they found.
The pressure ramps up as the month progresses and the close approaches. All the uncertainty surrounding the actual balances of your account prevents your team from diving into deeper insights about your company's cash position and then using those insights to plan out strategic investments.
SOLUTION:
Automated Bank Reconciliations for a Continuous Close
Although it might feel as though manual reconciliations are an unavoidable aspect of finance, it's now possible to automate most of the process. Sage Intacct connects with over 10,000 financial institutions worldwide to give your team an accurate, up-to-date picture of your cash, allowing you to make investment decisions in hours rather than days and spot the potential for poor cashflow before your company begins to feel the effects of it.
At the same time, Sage Intacct can be set to automatically download transactions from connected bank and credit card accounts daily or multiple times per day, ensuring your information is always up to date. The ease of matching and reconciling transactions means you can soft-close cash daily, providing your financial leaders with accurate and current cash positions to make critical decisions in the moment.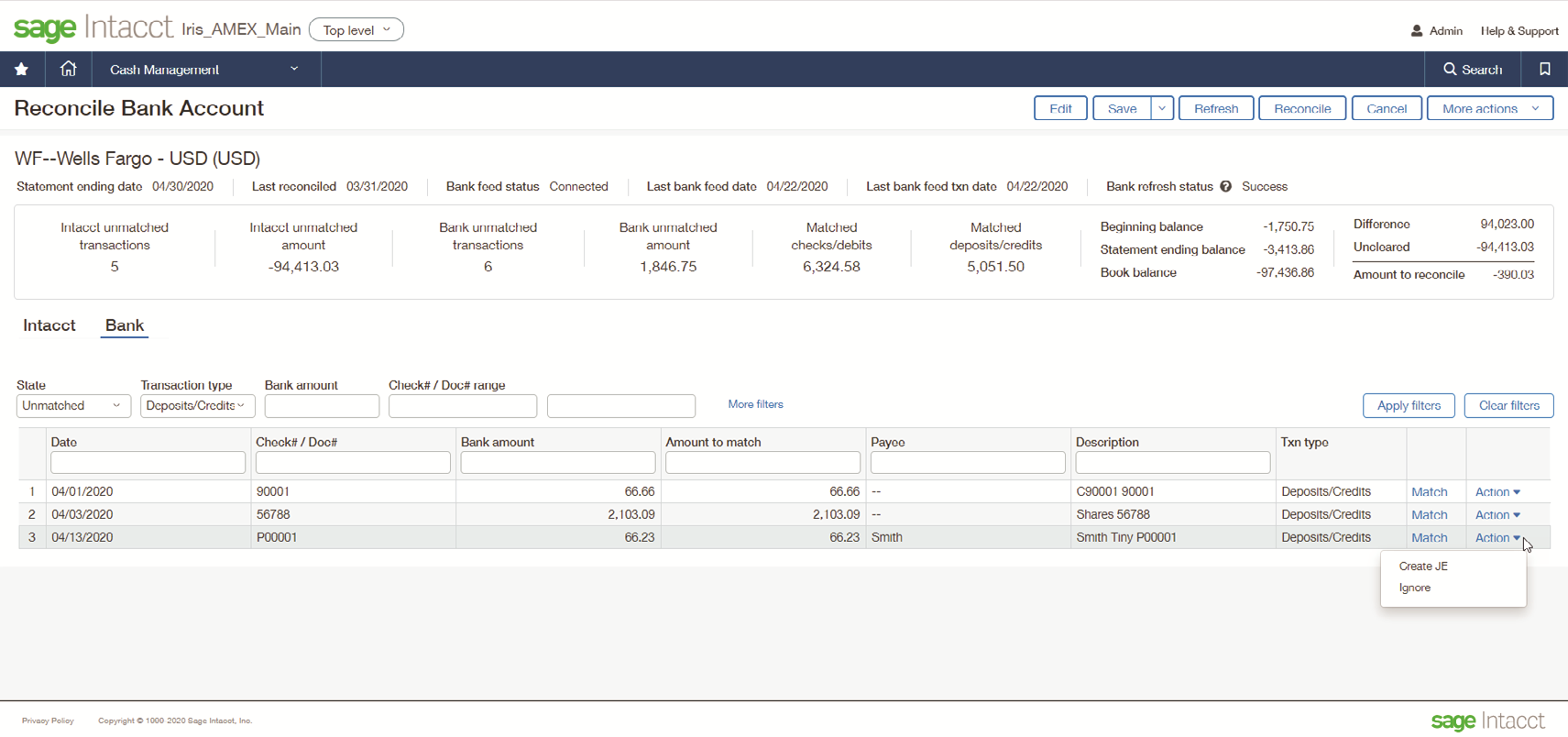 SIGN 4:
Your Team Spends Too Much Time Preparing for Audits
Audits can be a source of stress for even the most well-organized finance teams. It can often cause you and your team to lose hours to days as you go back through transactions in question, examine the compliance of the entry maker, and look for old supporting documentation. And the longer an audit takes, the more it costs your organization.
When supporting documents are kept on paper, spreadsheets, or emails, you and your team end up scrambling to find what the auditors need, disrupting your workflow, extending the audit, and potentially damaging the trust of the auditors.
SOLUTION:
Audit-ready Dashboards
A smooth audit starts by giving auditors access to the information they need.  Sage Intacct's audit-ready dashboards provide auditors read-only access to reports and drill down into underlying transactions. Each record offers auditors the level of traceability needed to give them a complete understanding of when the record was created, who created it and whether it was edited and by whom. The ability to attach documents to transaction allows you to keep your backup documentation with the transaction, making it accessible to the auditors with a click.
Finance leaders can also create checklists and approval workflows in Sage Intacct to ensure processes are followed and documented daily. It's a simple way to keep your team organized while also instilling confidence in your auditors.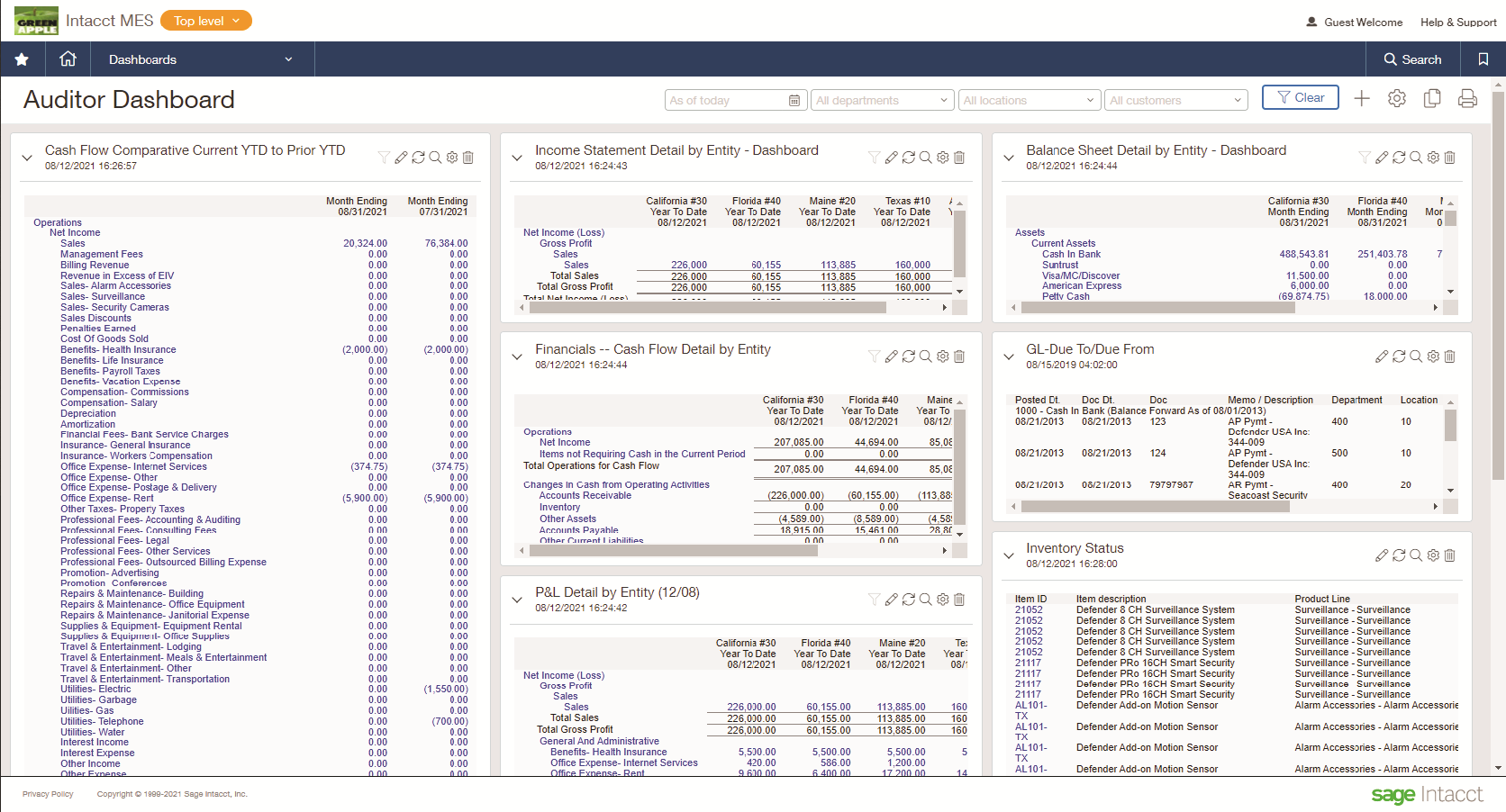 Automation in financial management technology presents a major opportunity for small and medium-sized businesses, and the benefits of it go well beyond budgetary savings. Finance teams can get out of the doldrums of repetitive, low-level tasks. It also means they can enjoy their evenings and weekend hours.
Sage Intacct has helped finance teams:
Reduce the amount of time spent on the purchase order process by up to 95 percent, freeing time to research more cost-efficient purchases

Stay abreast of their organization's cash position with automated banking reconciliation

Save over a thousand dollars in productivity and reduce transaction costs

Reduce the amount of time it takes to complete an audit by up to 50 percent with audit-ready dashboards
Learn more about how you can save money and time, while also shifting to more strategic work through automation with Sage Intacct visit: