For many small and mid-sized businesses, Intuit QuickBooks® was the first choice for financial software in an organization's early days.   QB offered basic functionality that almost any business could use to get off the ground.
Virtually every growing business soon realizes that QB has limitations. Some examples of those include:  
Over-Reliance of Spreadsheets to Support Financial Processes and Reporting

Excess Manual Data Entry and Re-Entry

Limited Access to Reports and Information to Drive Decision-Making

Difficulty in Adapting to New Business Requirements

Inadequate Controls Around Financial Processes
DeRosa Mangold Consulting has helped many businesses make the move from QB to a more advanced software service with Sage Intacct.  Clients benefit from dynamic, real-time data and processes, and flexible reporting in a dashboard delivery system that puts it all at their fingertips.  They experience increased productivity through accounting automation, extensive integration and user-defined process flow technology that keeps up with the growth of the company.  Sage Intacct is a dimensional accounting system, a new paradigm that will forever change general ledger accounting and ranked #1 in customer satisfaction and we know it will work for you.
Interactive Demo with Live Q&A
30 minutes | Daily 9:00 am PT / Noon ET
Put your feet up and learn how Sage Intacct helps you drive improved business performance from multi-entity consolidation in minutes to powerful, yet easy-to-use cloud budgeting and planning software.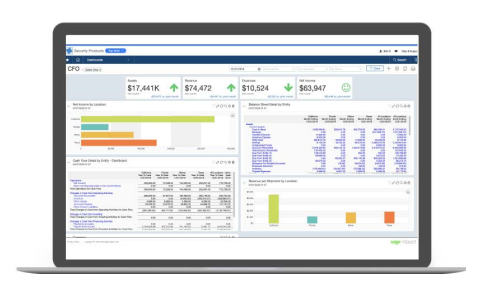 Access these whitepapers and eBook to discover what life is like after QuickBooks. Discover how Sage Intacct streamlines and automates processes to help finance organizations improve the accuracy, reliability, and timeliness of business-critical data. 
DeRosa Mangold Consulting is the team to turn it into your reality. 
Automation doesn't have to be scary, and it can help you and your employees have higher job satisfaction without the burnout associated with mundane tasks. They can instead concentrate on value-added activities that lead to professional development and employee longevity.
If outdated and inaccurate financial systems are impairing decisions, let's talk.
The team at DeRosa Mangold Consulting has the accounting & ERP solutions that move your business forward.