See how referrals can work for you!
We are so grateful for the fact that our #1 source of business comes from referrals.
To show how thankful we are, we want to write you a check!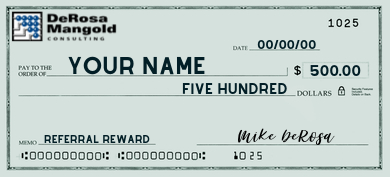 Upon receiving your referral, we'll send him or her a nice note that explains why we are contacting them. It will be courteous, pleasant and give you the credit.
If and when they close as a new client, we will send you a check for $500 as our way of saying thank you.
At DeRosa Mangold, we believe that all companies deserve software tools that work the way they work — and a business partner that's got their back.
Since our founding in 1999, we've focused on providing world-class, cloud-based ERP, accounting, and business intelligence solutions that help our clients run leaner, faster, and more profitably.
Our goal is for our company to be the best Sage Intacct service provider in the country, not necessarily the largest, but the most responsive that will bring all of our resources to bear, inside and outside of our company, to serve the client.