Sage 100c is an ERP solution that helps your growing small or medium company manage more than accounting — it unites your entire business at an affordable price. Best of all, it's easy and customizable.
Sage 100c provides comprehensive ERP functionality, including:
Financial Management

Inventory, Distribution and Manufacturing

Sales and Order Management

Human Capital Management

Business Insight and Reporting

CRM
Sage 100c is designed for small and mid-sized enterprises.
Sage 100c excels for companies in these industries:
Wholesale Distribution

Service

Manufacturing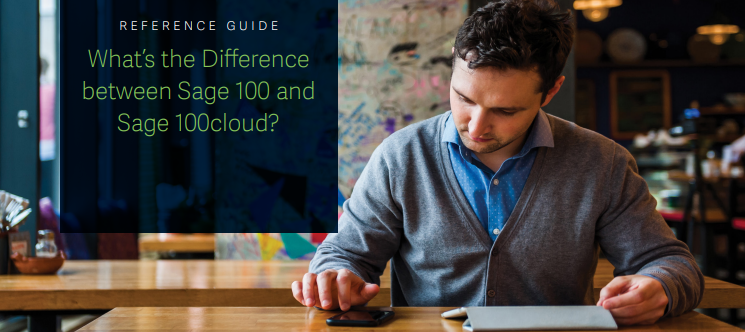 It's Time to Connect Your Existing Systems to the Cloud
Pay as you go with Sage 100cloud to get all the features of cloud connectivity without giving up the benefits of your on-premise or hosted solution. Whether your current Sage 100 solution is highly customized or not, you can take advantage of new cloud-connected capabilities:
Take advantage of rapid product innovation while upgrading on your own schedule

Easily configure your application settings, or heavily customize your environment thanks to an open code base

Increase collaboration through mobile access to relevant information without sacrificing the feature rich experience of a native application.

Subscription pricing means you can avoid upfront costs and pay in a way that makes sense for your business
Enhance Sage 100 to meet the needs of your growing business without disruption to processes that work,
with Sage 100cloud.
We've worked with the Sage 100 product family for decades – yes, decades. And we remain committed to this workhorse ERP solution that continues to evolve and adapt to the challenges facing today's small and mid-sized enterprises.
Let's Start The Conversation
We're here when you're ready to talk!  Fill in the form below and we'll get right back to you.
Our Locations
Waco (Headquarters)
200 TX-6 #310
Waco, TX 76712
Phone: (254) 772-2980
Dallas / Ft. Worth
Dallas / Ft. Worth, TX 75308
Phone: (972) 720-1510
Elkhart
Elkhart, IN 46571
Phone: (877) 772-2980
Austin
1120 S Capital of Texas Hwy #120
Austin, TX 78746
Phone: (512) 419-0510
San Antonio
San Antonio, TX 78217
Phone: (210) 921-9766