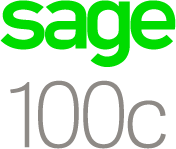 Sage 100c is an ERP solution that helps your growing small or medium company manage more than accounting — it unites your entire business at an affordable price. Best of all, it's easy and customizable.
Sage 100c provides comprehensive ERP functionality, including:
Financial Management
Inventory, Distribution and Manufacturing
Sales and Order Management
Human Capital Management
Business Insight and Reporting
CRM
Sage 100c is designed for small and mid-sized enterprises.
Sage 100c excels for companies in these industries:
Wholesale Distribution
Service
Manufacturing
We've worked with the Sage 100 product family for decades – yes, decades. And we remain committed to this workhorse ERP solution that continues to evolve and adapt to the challenges facing today's small and mid-sized enterprises.
Manage finances, inventory, and employees with Sage 100c
Our Locations
Waco (Headquarters)
200 TX-6 #310
Waco, TX 76712
Phone: (254) 772-2980
Dallas / Ft. Worth
Dallas / Ft. Worth, TX 75308
Phone: (972) 720-1510
San Diego
San Diego, CA 92111
Phone: (661) 322-0005
Austin
1120 S Capital of Texas Hwy #120
Austin, TX 78746
Phone: (512) 419-0510
San Antonio
San Antonio, TX 78217
Phone: (210) 921-9766
Elkhart
Elkhart, IN 46571
Phone: (877) 772-2980