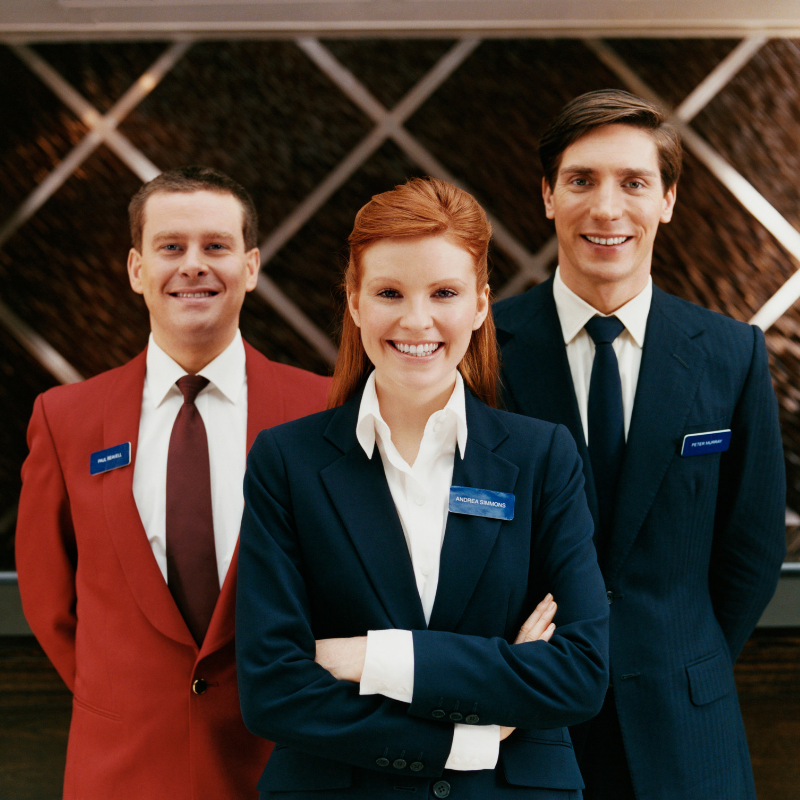 Cloud-based Hospitality Accounting Software
Whether operating multi-property hotels, restaurant chains, entertainment venues, resorts, clubs, or other hospitality businesses, you need a sophisticated hotel management system to keep your accounting and finances on track. This is why so many companies turn to Sage Intacct's award-winning cloud-based hotel management software solution.
Sage Intacct software for hotels and restaurants automates hospitality accounting and financial management to give you better transparency into your hotel, restaurant, or other hospitality business, as well as help you make decisions that increase profitability. Instead of worrying about the particulars of hospitality software or hotel accounting, Sage Intacct hotel management software leaves you free to focus on customer satisfaction.
With Sage Intacct hospitality software, your staff can enter and view information for specific properties and locations, without seeing the financials for other sites and businesses. Sage Intacct's flexible chart of accounts lets you automate multiple operating or ownership structures – including franchise operations, fractional ownership, global business units, and other complex holding structures – all while managing consolidations from the parent company. Sage Intacct even helps you keep up with evolving revenue recognition requirements to ensure compliance without compromising effectiveness. This is the cloud-based hotel management system you need to strengthen your financial operations.
Examine & Advance the Performance of Your Company
Track real-time performance centrally and across all of your hotel and hospitality locations. View your accounting and finance information by individual location, groups of locations, concept, region – or other dimensions you use to measure performance. Improve cash flow and revenue forecasting with real-time visibility into current inflows, outflows, and revenue streams. Or take your analysis to the next level with Sage Intacct's financial reporting and financial dashboards for greater insights. Sage Intacct hospitality software allows you to see the whole picture.
Whether it's for hotel accounting, restaurant accounting, or POS accounting, Sage Intacct offers easy, cloud-based integration with leading applications for payroll, time/attendance, and more. Cloud-based software provides each hospitality facility with secure, web-based access to real-time information – on any browser, any device. It's the hospitality software that lets everyone do their jobs more efficiently.
"We've been very impressed with the deep functionality provided by the Sage Intacct financial management system. The increased financial visibility from Sage Intacct's reporting and dashboard capabilities enables us to better manage our business as we grow."
Greg Hooper
VP of Hotel Accounting
Gemstone Hotels & Resorts
Why Choose Intacct for your SaaS Accounting Solution
Benchmark Manages 50 Locations and 80 Entities

"Every time we encounter a complexity, we quickly find there's a way to solve it with Sage Intacct. If we have to accomodate consolidaitons with 10 layers of partnerships, we don't worry about whether Sage Intacct can handle it because it's so easy to use. 
-Brett Atkinson, SVP Finance
Sage Intacct Product Tour for Multi-Entity Businesses
Directior of Cloud Solutions, ViJay Ramakrishnan and Solution Specialist, Linda Pinion take you through a tour focused on multi-company organizations. Get better informed about multi-entity financial management issues and Intaccts capabilities to resolve them.
Watch an interactive demo and learn how Sage Intacct helps you drive improved business performance throughout your entire organization.
Sage Intacct helps CFOs access integrated management and financial reports across their business entities – in minutes not days – to grow and drive their businesses.
In just a few minutes you'll learn why Sage Intacct is the leading provider of cloud financials applications.
Let's Start The Conversation
We're here when you're ready to talk!  Fill in the form below and we'll get right back to you.
Our Locations
Waco (Headquarters)
200 TX-6 #310
Waco, TX 76712
Phone: (254) 772-2980
Dallas / Ft. Worth
Dallas / Ft. Worth, TX 75308
Phone: (972) 720-1510
Elkhart
Elkhart, IN 46571
Phone: (877) 772-2980
Austin
1120 S Capital of Texas Hwy #120
Austin, TX 78746
Phone: (512) 419-0510
San Antonio
San Antonio, TX 78217
Phone: (210) 921-9766