Invoice automation, smart workflows and unified buying for ambitious organisations
iCompleat is fully AI and machine learning enabled software designed to remove the challenges of manual paper-based purchase invoice capture, approvals and unstructured buying. Every invoice is digitally captured on receipt and can never be lost; duplicate invoices are caught every time, approvals are undertaken from anywhere 24x7 and, on final approval, the invoice is posted directly to your accounting software. Built-in online buying capabilities ensure a seamless and digitized purchasing experience in marketplaces like Amazon Business. Accounts payable will never be the same again.
You can be automatically processing invoices this week!
Complete the form to have one of our team members give you a call today!
Rather call us?
We're happy to chat.
(254) 772-2980
Accounts Payable Automation
Fingertip Access Wherever You Are
Automatically push invoices into Sage Intacct, Sage 100, Quickbooks and all other accounting software systems.
Have invoices waiting right on your dashboard for approval.
Process vendor statements from your phone, tablet or desktop no matter where you are.
Create a customized workflow to fit your accounting department's needs.
Faster, Smarter & More Accurate Accounting
Remove time consuming and repetitive data entry.
Omit human error with advanced defaulting and accounts payable automation.
Why DeRosa Mangold Consulting Chose iCompleat as Our Procurement & Payable Management Partner for Our Customers

Smart and fuss-free approvals
• Zero-touch AP process automation
• AI powered invoice data capture, extraction and coding by supplier and line item
• Full visibility of every invoice and payment status
• Automated invoice and PO matching
90% less manual processes
• Simple drag and drop workflow creation
• Enterprise grade simultaneous approval routing
• Unlimited approval workflows, hierarchies and approval groups
• Dedicated mobile app for approvals on the go
Gain visability and control of your purchasing
• Digitize your company's purchasing process and make significant savings
• Create POs for approvals within a selected supplier list to control spend
• Have real-time visibility of all invoices, approval and payment statuses
• Enjoy fully automated accruals and real-time cash
• Remove risk of invoice fraud completely
• Multiple level data validation ensures correct payment information and stops duplicates
• iCompleat is deployed on Microsoft Azure local shards adopting UK, USA and Australian local data protection and tax requirements automatically.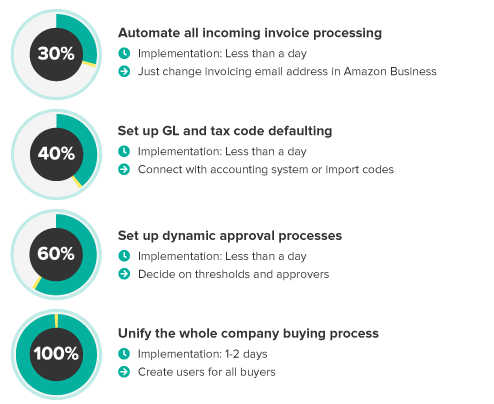 Increase productivity and reduce spend with iCompleat Buy to Pay

Our AI and machine learning powered software not only automates your accounts payable process, it also unifies the company purchasing process.
We have combined industry accounts payable best practices and cutting-edge technology to provide our customers an average rate of 12% for savings on indirect spend, up to 90% productivity gains, 100% visibility of all POs, invoices, and real-time cash requirement reporting.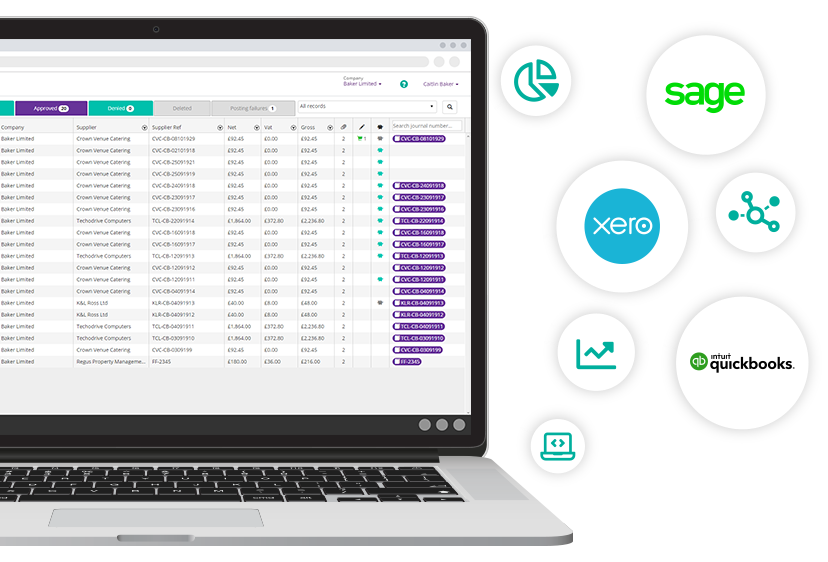 Real-time integration with any accounting software
Seamlessly connect your accounting software with iCompleat in minutes. iCompleat synchronizes all accounting data from and to your accounting software including real-time approved invoice postings, so you don't have to.
Configure multiple entities, see all locations, suppliers, GL codes and live payment statuses from your accounting system and all invoice data from iCompleat, to name a few!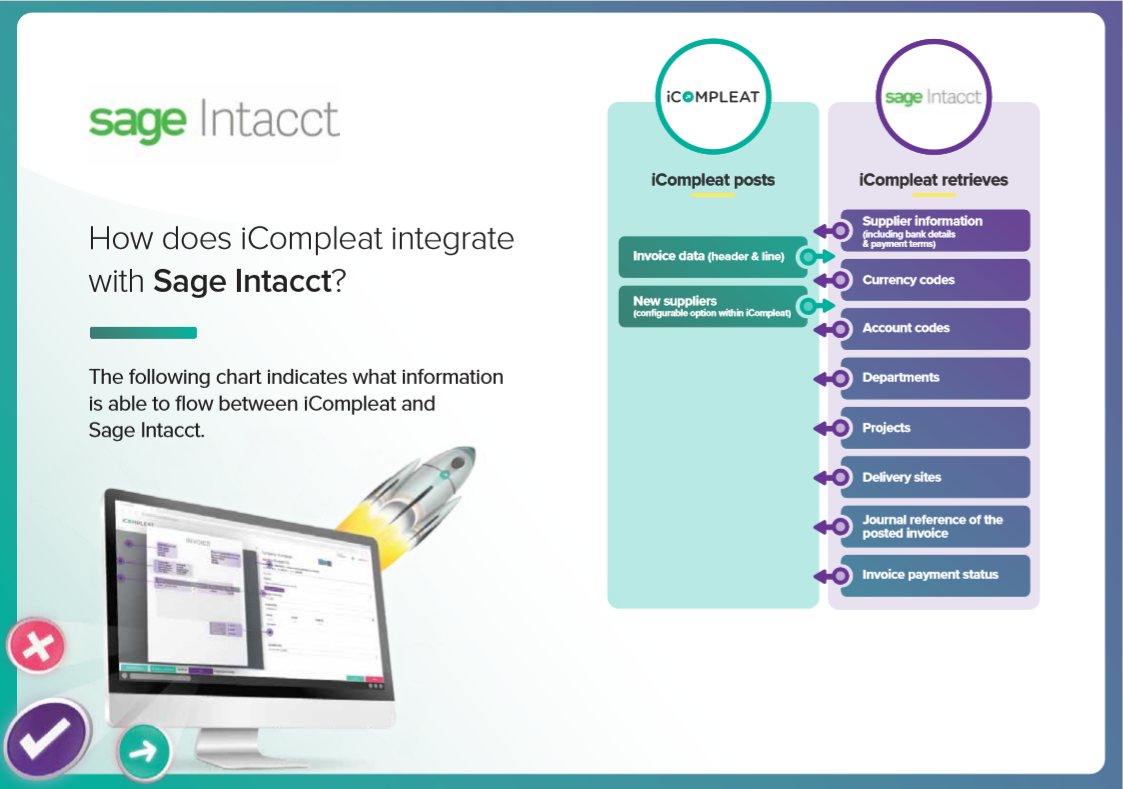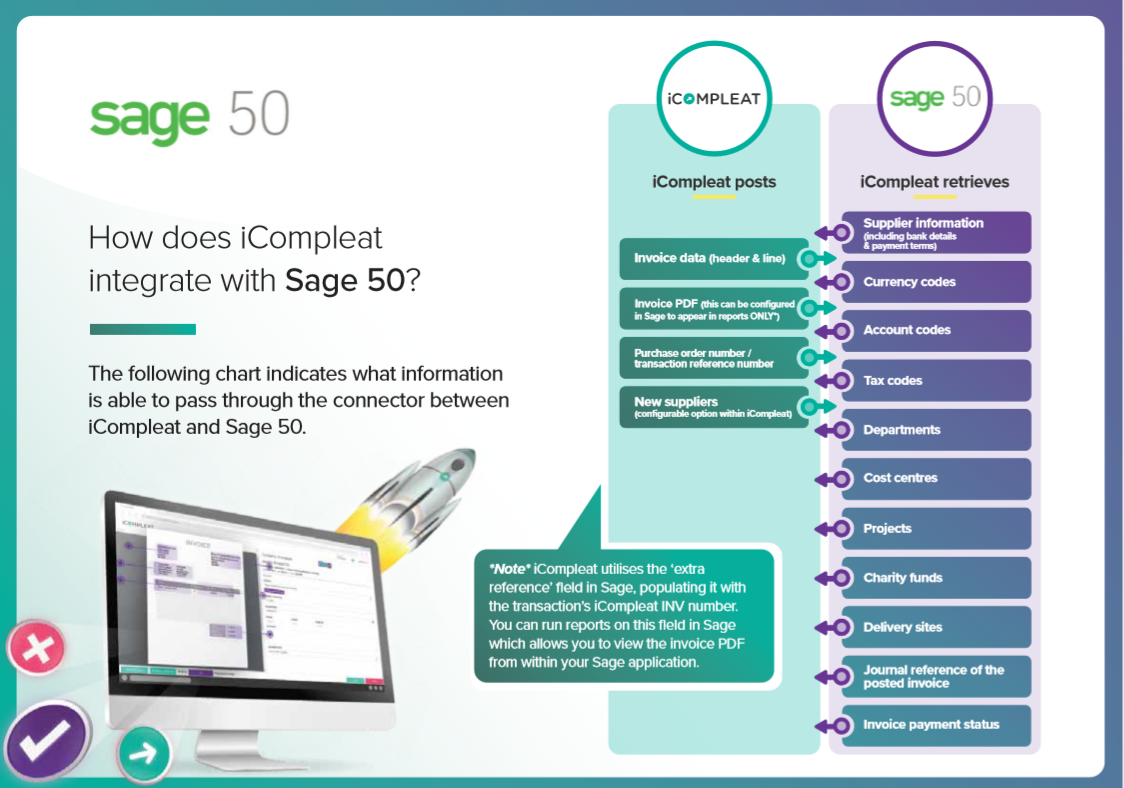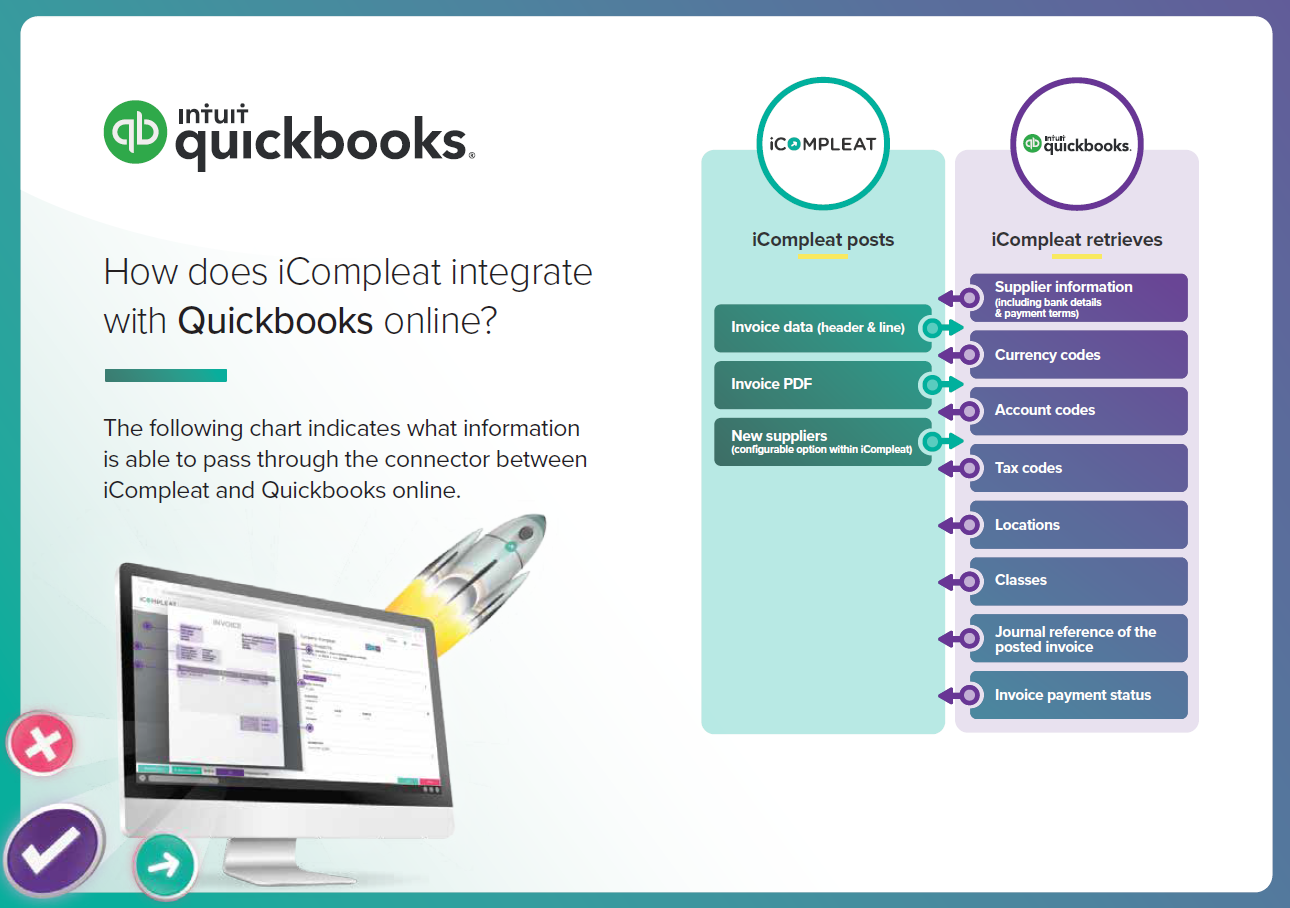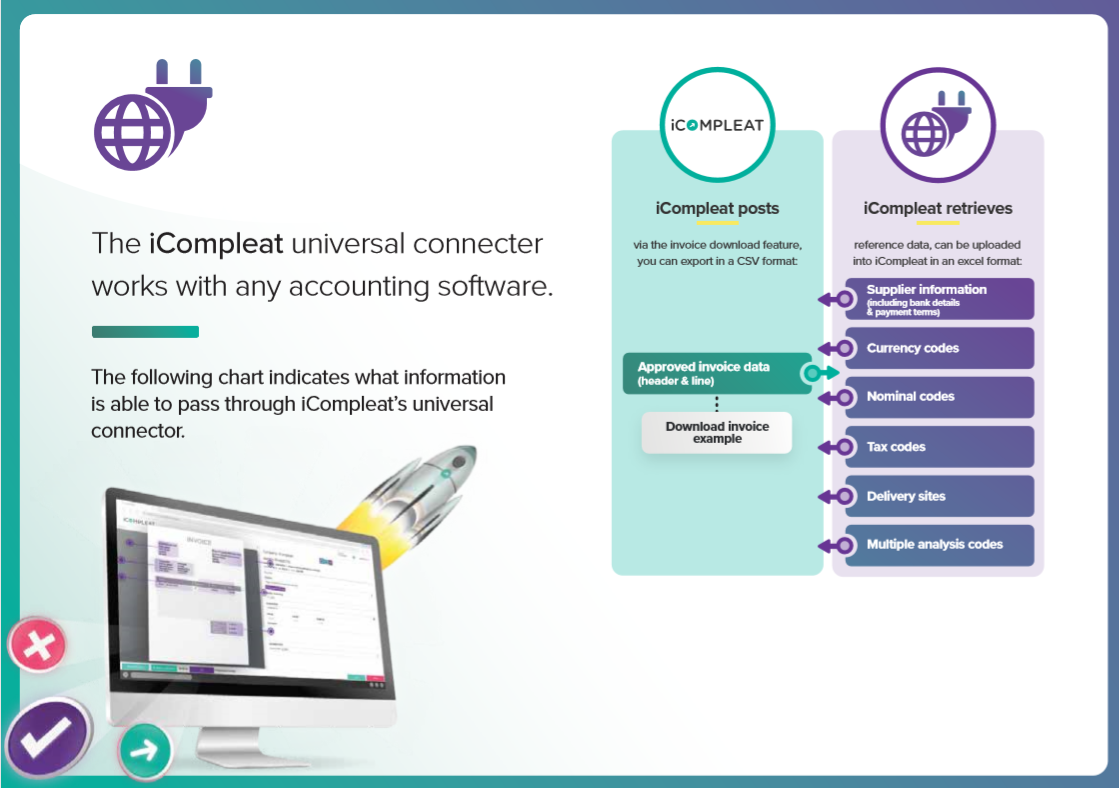 Single day deployment

Competitive Pricing

Multilingual and multi-currency

Cloud-based

Unlimited multi-company support
Smart API's

Paperless

Easy tracking, search and reporting

Quick approvals with mobile app

Advanced data capture
"Compleat's spend control solution met all of CIPFA's requirements for an automated procurement function and was a more cost-effective alternative to other solutions we looked at."
Peter Woodman, Group Assistant Director Finance, CIPFA
Compleat Software utilizes advanced AI and machine learning in purchase invoice capture and process automation, allowing iCompleat to be incredibly competitively priced.
So much so, that customers often cover the license cost from the savings incurred by adopting a unified digital purchase process.
Contact us and we will assist in choosing the best pricing plan for your business. We will assess the volume and complexity of invoices received, users involved, and the company's spending habits. Our experts will make sure your monthly or annual subscription payment is the most suitable to fit your organization's needs.
Get a personalized demo today!
Arrange a no-obligation product demonstration with DeRosa Mangold Consulting and tell us about your current accounts payable and buying procedures. Together we'll craft the right plan to transform your accounting automation processes. You will get to know the functionality in detail and have any of your questions answered.
To learn more about iCompleat API Automation, call DeRosa Mangold Consulting at 254-772-2980 or email us at info@derosamangold.com 
Let's Start The Conversation
We're here when you're ready to talk!  Fill in the form below and we'll get right back to you.
Our Locations
Waco (Headquarters)
200 TX-6 #310
Waco, TX 76712
Phone: (254) 772-2980
Dallas / Ft. Worth
Dallas / Ft. Worth, TX 75308
Phone: (972) 720-1510
Elkhart
Elkhart, IN 46571
Phone: (877) 772-2980
Austin
1120 S Capital of Texas Hwy #120
Austin, TX 78746
Phone: (512) 419-0510
San Antonio
San Antonio, TX 78217
Phone: (210) 921-9766